Low Core:
Low cores are used for increasing stats on low grade equipment, they
cannot be used on equipment like Titanium so if you want to practise
using a core, practise with this one. Unequip your item your upgrading,
right click on the Low Core and then left click on the item, if its
successful it will tell you so and your item will now be +1.

Medium Core:
Medium cores are used for increasing stats on Titanium or lower graded equipment and are used the same way as a Low Core.

Upgrade Core High:
Red cores are used for increasing stats on the high grade equipment and
shouldnt be used on low grade weapon or armour. Osmium, Shadowtitanium
etc, are what you need to be saving and using Red Cores on, anything
else is waste. Just like Low and Medium Cores, right click to use.

Upgrade Core Highest:
Shining a bright white in appearance, can be used to upgrade Mythril grade equipment.

Force Cores:
Unlike the other cores you can only use force cores on items which are
slotted and you have to go to the 'Core Alchemist' to use them. Just
like Upgrade cores Force cores come in different grades - Low, Medium,
High and Highest.

Slotted Shadowtitanium Daikatana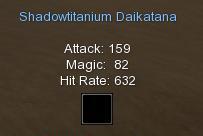 When speaking to the Alchemist, click on
'Upgrade' to upgrade your weapon and then a new menu will appear. The
Item space is to put the weapon or armor inside you want upgrading, the
core space is to put your force core inside - i also put inside a low
core as it will increase its chance of being successful (note: you can
put 2-3 force cores inside and can get a chance at getting a level 2
upgrade but its completely random what you get), the Catalyst space is
where u have to put another slotted weapon / armor inside and this
determines your special upgrade.)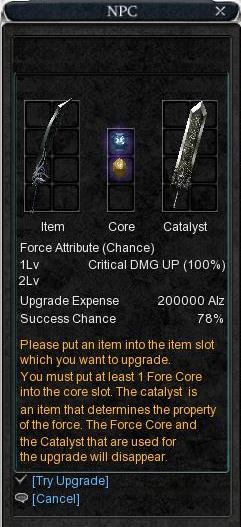 The Catalyst must be Slotted +0 (have no extra stats)


Below is a list of the level 1 enchantments and how to get them.


* Attack + 4 :
Item = Any Sword | Catalyst = Blade or Katana
Item = Crystal or Orb | Catalyst = Blade or Katana
Item = Gloves | Catalyst = Blade or Katana
* Attack Rate + 50 :
Item = Any Sword | Catalyst = Gloves
Item = Crystal or Orb | Catalyst = Gloves
Item = Gloves | Catalyst = Gloves
* Critical Damage Increase :
Item = Any Sword | Catalyst = Great Sword or Daikatana
Item = Helm | Catalyst = Great Sword or Daikatana
Item = Crystal or Orb | Catalyst = Great Sword or Daikatana
* Defence + 2 :
Item = Boots | Catalyst = Suit
Item = Helm | Catalyst = Suit
Item = Gloves | Catalyst= Suit
Item = Suit | Catalyst = Suit
* Defence Rate + 20 :
Item = Boots | Catalyst = Boots
Item = Helm | Catalyst = Boots
Item = Gloves | Catalyst = Boots
Item = Suit | Catalyst= Boots
* HP + 50 :
Item = Boots | | Catalyst = Helm
Item = Suit | Catalyst = Helm
* Magic + 4 :
Item = Any Sword | Catalyst = Crystal or Orb
Item = Crystal or Orb | Catalyst = Crystal or Orb

ThanK To :

Photobucket.com
Blackphoenix Guild
Forumotion.com
google.com